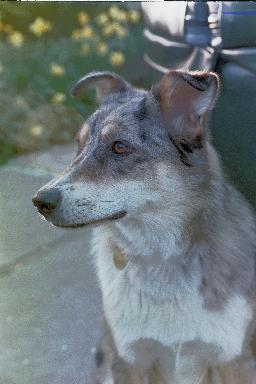 Tika
Feb 14, 2001 (est) - Mar 9, 2015
ADCH-Silver, TM-Platinum, PDCH-Gold, PTM-Platinum, LAA-Gold (19 short of Platinum); C-ATCH; C-ATE EAC,EGC,NJC,TN-O,WV-N
Tika (TEE-ka) might or might not be pure Aussie (Australian Shepherd). If she is, she's a fine example of a working line of Aussies with drive, intelligence, and curiosity. If, instead, she's a cross--that would make her a Craussie, now, wouldn't it! These days, we're thinking she's mixed with Husky.
Adopted in Feb. 2002 at age (roughly) 12 months.
Died March 9, 2014, of congestive heart disease and renal failure. View/download memorial page in PDF.
---

Original text from the Rescue Site
Savanna

is a spayed female 9 month Aussie mix. She weighs 42 lbs, is crate trained, housebroken and loves to ride in the car. Savanna loves to play with other dogs and is especially good with small puppies. She is good around cats but wants to play with them and might get a little too rough. Savanna only barks when she wants to play with other dogs or cats that happen to walk by and is being worked with to correct the behavior. She would be a great obedience dog candidate and possibly a good agility dog. Savanna is very intelligent and is very eager to please. She is a wonderful dog and needs to be with a family or a person that is active and will spend time with her. Savanna loves everyone and is good with children and would fit well into just about any situation where she will get a lot of attention and exercise. (North Bay Canine Rescue)
---

Tika Tackles Agility
Tika became a fine agility dog who loves the action. Read details about her adoption, training, competition, titles, successes and failures, and daily life in the back yard at our own Taj Mutt Hall Dog Diary.
Some of Tika's agiilty successes:

Qualified for USDAA National Championships in:

Steeplechase (2004-2006,2008-2009 Championship, 2009-2012 Performance)
Grand Prix (2004-2009 Championship, 2009-2012 Performance)
Team (2005-2009 Championship, 2009-2012 Performance)

Attended USDAA Nationals 2004-2008:

Grand Prix semifinalist 2008
DAM Team finalist 2006 with Carlene Chandler's Brenn and Mary Van Wormers's Skeeter (20th of 300(?) teams entered)
10th 26" Power & Speed 2006 (of 130 dogs)
11th 26" Team Snooker 2005 (of 144 dogs)
12th 26" Team Gamblers 2006 (of 130 dogs)

CPE Nationals 2006: High in Trial Standard 24" (also 1st place in Wildcard, Standard 1, Standard 2, Snooker, Jumpers; 2nd in Standard 3, Colors)
USDAA Lifetime Awards: Bronze Sept 2008, Silver April 2010, Gold May 2011, 12 short of Platinum Nov 2012 when abruptly had to retire
USDAA Titles: ADCH Feb 2007, ADCH-Bronze April 2008, ADCH-Silver Sept 2009, PDCH April 2010, PDCH-Bronze April 2011, PDCH-Silver Sept 2011, PDCH-Gold Sept 2012
CPE Titles: C-ATCH Nov 2005, C-ATE March 2012
USDAA Top Ten:

Performance 22" 2010: Gamblers (#6), Jumpers (#4), Snooker (#4), Standard (#4);
2011: Gamblers (#2), Jumpers (#1), Standard (#6) (also Snooker #12)

Lifetime standing overall among ALL Performance 22" Top Ten dogs *ever* (as of Aug '12):

#8 in gamblers (still #13 in Mar 15)
#9 in jumpers, (still #11)
#10 in snooker, (still #11)
#11 in standard, (still #13)
#20 in Tournaments (still #23)

Lifetime among all 22" Performance mixed breeds as of Aug '12:

#1 in Gamblers (still #1 in Mar '15),
#1 in Snooker (still #1),
#1 in Jumpers (still #1),
#2 in Standard (still #2),
#1 in Tournament (still #2)

USDAA title statistics (as of March, 2015, 2.5 years after she stopped)

Compare to tens of thousands of registered dogs, of whom only 13,400 have earned even their novice (AD) title. Tika is one of only--
ADCH-Silver: 444 dogs overall; 57 her in height class; 34 mixed breeds.
PDCH-Gold: 34 dogs overall; 11 in her height class; 7 mixed breeds.
Tournament Master Platinum: 579 dogs; 67 in her height class; 30 mixed breeds
Performance Tournament Master Platinum: 90 dogs overall; 16 in her height class; 12 mixed breeds.
---
---
Pagemeister elf@finchester.org
Last updated Dec 21, 2017
OK, good girl, GO HOME