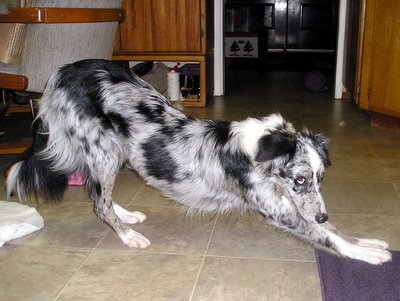 Why a Border Collie?
How I came to "sell out" and purchase a purebred, registered, pedigreed blue merle Border Collie as my next agility dog.
Boost's Siblings
Who they are—all but one we expect to be competing in agility:
ADCH Gina (Orangina?): Blue merle. Los Angeles area. Owner Tim who runs an agility-champion Boxer.
ADCH Derby: Black/white (the only male). Owner Tammy (breeder), who also runs a Rottweiler and another Border Collie, and sometimes runs Boost's parents for her partner.
ADCH Bette: Blue merle. Owner Mary Van Wormer, a long-time agility friend whose first agility dog is a little Australian Cattle Dog.
ADCH Beck: Black/white. Owner Robert Green, a medium-time agility friend, whose first agility dog is a very fast German Shepherd who knocks more bars than Tika, if you can believe that to be even possible.
Caena ("KAY-na"): Black/white. Owner--local, someone I didn't already know; I believe they've done agility already with another dog but not sure.
Tinker: Blue merle: Someone's pet.